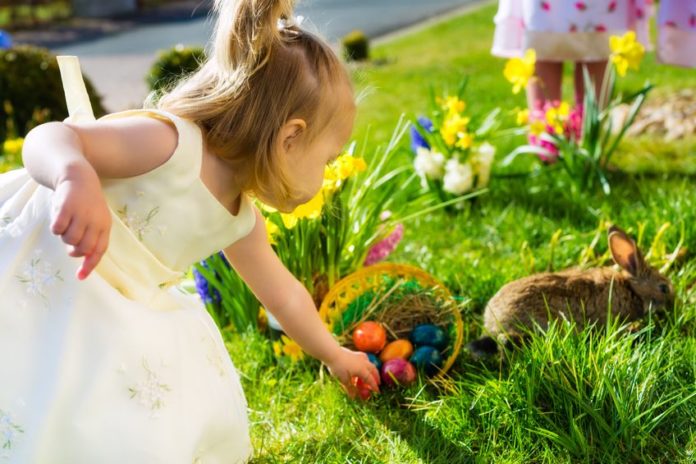 Holidays offer great opportunities to be creative and have fun in unusual ways, and Easter is no eggception!
Celebrate and keep your kids entertained for hours with these fun and creative Easter games and activities.
Here are 11 Easter games your kids will want to play year after year!
1. Secret Easter Bunny: Let kids make small gifts for friends or family members (think folded-up drawings, homemade beaded jewelry, or other age-appropriate activities) and hide them inside plastic Easter eggs. Then they can secretly swap eggs or hide them for others to find.
2. Time Machine: Have your child write a letter to himself about what he would like to remember about this Easter. He can include what he did, what the Easter bunny brought, what the weather was like, what he had for dinner, who was there – any details he finds interesting. Have him place the letter inside an egg to open next year.
3. "Scrambled" Eggs: For a more eggciting (sorry, I had to!) lunch, package the usual staples like grapes, chunks of cheese, or cut sections of a sandwich inside plastic eggs instead of your child's usual lunch containers.
4. Pin the Tail on the Bunny: This is a fluffy twist on a traditional party game. Instead of a donkey, use a picture of a bunny, and have blindfolded kids try to stick a cotton-ball tail on.
5.Glow Stick Eggs: Who says you can't have an Easter egg hunt at night? Fold glow sticks into plastic eggs along with some candy, hide them all over the yard, and wait for the sun to go down.
6. Easter Piñata: Consider an Easter-themed piñata such as a rabbit or a large, colourful egg. End your Easter party or get-together with a bang as young guests swing at the candy-filled piñata.
7. Kool Eggs: Did you know you can dye Easter eggs with Kool-Aid? Simply mix the powder with water for lots of inexpensive, colourful dyes. Just like with traditional dyes, the longer you leave the egg in, the brighter the colour.
8. Puzzle Eggs: This one is great for parents who want to avoid candy overload on Easter. Cut a picture into several pieces and hide the pieces inside separate plastic eggs. Once all the eggs are found, kids can put the picture together.
9. It's a Mystery: Let your child hide small surprises inside eggs, and then she can write three clues for each item and challenge family members to crack the mystery.
10. Balancing Act: Have kids balance eggs on spoons and race to the finish line (without dropping the egg) to win. This is a fun relay-type race with an Easter twist, and it works well with small or larger groups of kids.
11. Fun with Math: No, this is not an oxymoron. Math really can be fun when you stuff Easter eggs with slips of paper on which you've written various numbers. Once the children find all the eggs, have them add up the numbers inside their eggs. Highest total wins a prize.
These activities are lots of fun for parties, classroom activities, or even quiet family days at home. No matter how you're spending your Easter, your children will appreciate you putting together some of these super fun and creative Easter games!
If you like these ideas make sure you SHARE them with your family and friends!