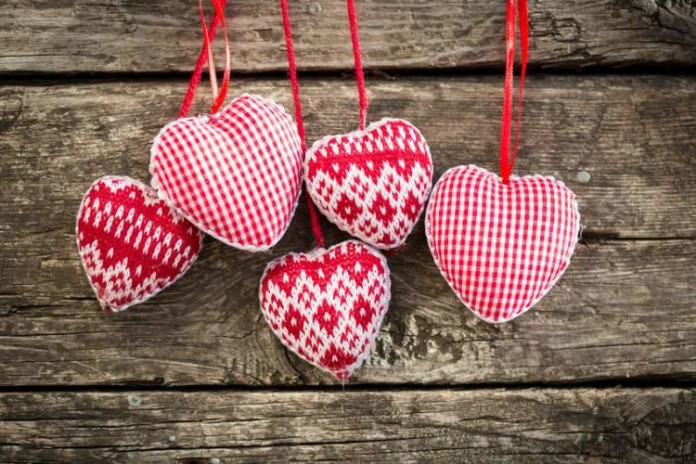 Romancing your partner doesn't require a lot of time and money – and you can even involve the kids! Here are five sweet and simple ways to show them you care
Before we had a baby, my partner and I used to say, "Oh, we don't care about Valentine's Day," but we'd still go out to a fancy restaurant because we figured it was a good excuse. Then again, we went out for indulgent dinners all the time because we had nothing better to do with our time and money.
Needless to say, it's a very different story now. A romantic rendezvous by candlelight sounds like my personal version of heaven, but it doesn't happen very often. We've had to get a bit more creative and steal little romantic moments here and there.
If you don't have the time, money, energy or babysitter to woo your partner with a five-course degustation menu, fear not – there are still plenty of great ways to show them how much you care.
1. Make them breakfast in bed
Sure, it's awkward as all heck to eat in bed, but who cares? It's such a nice feeling to be woken up with a hot cup of coffee and a yummy brekkie on a tray. Try something special like French toast or pancakes, or just stick to your partner's regular morning fare if that's all you have time for. If you can get the kids involved, it'll be all the more special.
2. Have a surprise delivered to their workplace
There's not a woman in the world who doesn't love receiving flowers at work. Not only will they brighten up her desk, but she'll get to bask in the envious cooing of all her co-workers. Bonus points if you send her favourite flowers. Ladies, you can surprise your partner too with a beer or chocolate gift hamper. Simply search "valentine's day gift delivery for him" for your local options.

3. Cook their favourite dinner
If you can't get to a restaurant, have the restaurant come to you. Once the kids are in bed, put on some chilled-out music, light a few candles, open a nice bottle of wine (perhaps one that has special meaning, such as the wine that was served on your wedding night) and cook your partner's favourite meal. It can just be mac and cheese as long as they love it!
4. Recreate your wedding night
This sentimental Valentine's Day surprise requires some preparation, but it's sure to melt the heart of any hopeless romantic. Recreate some of the elements of your wedding night in your home. You don't need to invite all the guests and wear your wedding outfits again – focus on simple things like playing your wedding music, reciting your vows, trying to do your first dance again (this could end in hysterics!), watching your wedding video, and anything else that felt special to you. You can either do this with the children or wait until they're asleep if you really want to relive your wedding night (wink, wink).
5. Buy them a gift voucher for an amazing experience
If you have a bit of a budget and you'd like to do something extra-special for your partner (this can be a good option if the last few Valentine's Days have gone unnoticed!), surprise them with a voucher for an experience they'll love, such as a wine tour, a helicopter ride, race-car driving, cooking classes, a spa day or a romantic weekend away. Check out RedBalloon.com.au for plenty of great ideas.
What simple things do you do to make your partner feel special on Valentine's Day?