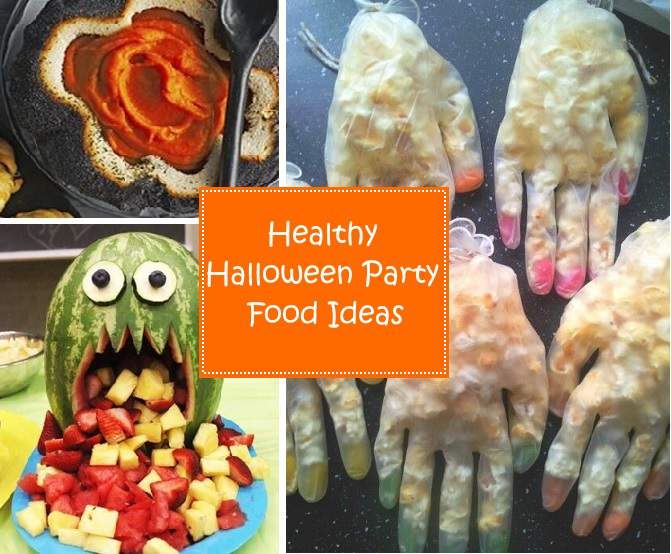 Boo! Hollowed out your pumpkins? Dusted off the face paints? Agreed that your six year old can dress as a demon-mermaid (fusion fancy dress is so A/W 2015) as long as they stop trying to conceal uneaten broccoli florets underneath their plate/chair leg/headband. Yes, it's Halloween, in all its ghostly glory.
If you're looking for some Halloween party food ideas for kids, you've come to the right place! Below you will find some healthy Halloween recipes that fun and easy to make so keep reading!
I'm also including the Halloween recipe books I like to use to get gruesome inspiration year after year. Happy Halloween!
Halloween Party Food Ideas For Kids - Best Recipe Books
| | | |
| --- | --- | --- |
| | Ghoulish Goodies: Creature cupcakes, monster eyeballs, bat wings, Witches' Knuckles, and more! | VIEW PRICE |
| | Betty Crocker Halloween Cookbook: Scary Treats, frightening main dishes, blood-curdling beverages and more! | VIEW PRICE |
| | Little Kitchen of Horrors: Hideously Delicious Recipes That Disgust and Delight | VIEW PRICE |
| | Kitchen Overlord's Dead Delicious Horror Cookbook | VIEW PRICE |
| | Taste of Home Halloween 100+ Freaky Fun Recipes | VIEW PRICE |
One of the first things to spring to mind when preparing for the annual fright-fest is the amount of sugar that children are accustomed to. From the doughnut curtain that my two older children had to 'eat through' in order to gain admittance to one of last year's parties; to the trick or treating goodies; Halloween is one of the most sugar-fuelled occasions of the year.
It's easy to turn a blind eye and think, 'Well, it's only once a year…,' but it is possible to offer slightly healthier treats which don't compromise on the all-important thrill and taste fronts. Dare your little witches and goblins to dig into these ghoulish gourmet creations, then watch them come back for seconds!
All recipes to serve four or as part of a party spread!


Blood-Curdling Cauldron and Horrible Hummus Dip
This looks fabulous on the party table and is packed with nutritious ingredients.
Cauldron
One hard-crust round or cottage style loaf hollowed out to leave around a ½ inch thickness
One egg, beaten well

4 oz poppy seeds (black)
14 oz canned chickpeas
Ripe avocado
A small handful of fresh coriander
A good slug of olive oil, more to taste
2 tbsp smooth peanut butter, more to taste
Juice of one lemon
½ tsp cumin
Clove of garlic
3 tbsp water
Sea salt
METHOD
Step 1: Pre-heat oven to 200C/180C fan/gas 6
Step 2: Prepare your cauldron…use a pastry brush to coat the outside of your loaf with an even layer of the beaten egg.
Step 3: Working over a large plate, sprinkle the poppy seeds over. They should stick to the egg wash, but it might take a few goes to cover the whole loaf. Depending on the shape of your loaf, rolling the bread in the poppy seeds may work better.
Step 4: Place on a baking tray, cut side down, and bake for 10 minutes, before cooling.
Hummus Dip
For the dip, whiz all the ingredients in a food processor, to a thick paste. Add salt, pepper, lemon juice or peanut butter to taste; or water to loosen if too thick.
Chill before serving then spoon the dip into the cauldron and gather a collection of dip-able things to serve alongside.
This is the one time of year when placing a plastic batwing, spider or something similarly gruesome on top of the dip would be entirely appropriate, so rope in the kids to make it look truly horrible…

Screaming Watermelon Monster
Brilliantly quick and easy, yet brilliant on a Halloween party table, this monstrous creature will help get some frightening fruit into your little vampires and ghosts.
You'll need…
One large watermelon

Selection of prepared fruit such as kiwi slices, strawberries, blueberries, melon cubes, pineapple, and grapes
Lime
Two black grapes
A few cocktail sticks
METHOD
Step 1: Cut a wide and deep 'mouth' into the watermelon, in a similar fashion to carving a pumpkin. Get creative with teeth and fangs! Place on a large plate or cake board.
This is a great example of a watermelon monster, minus the doll limbs and spikes.
If your watermelon is unstable, then cut a slice out of the skin so it will stand firmly.

Step 2: Slice the lime into halves and using cocktail sticks, pierce a black grape, and fix into position in the center of each lime half for eyes. Fix on top of the 'head' with another cocktail stick.
Step 3: Carve spikes out of the watermelon skin you removed earlier, and arrange them, secured with cocktail sticks, around the monster's head.
Spoon some of the fruit into the monster's mouth, with the rest spilling out onto the plate.

*Gruesome Tip
For added 'eewww,'gather together any limbs of dolls that you've failed to; a) throw away, b) fix back onto the broken doll, or c) even bothered to remove from the toy box; and poke them into the pile of fruit, so that the hands and feet are sticking out. Try not to be too spooked when you see your toddler eating a cube of melon from a tiny disembodied plastic limb. It's still fruit, right?
Deadman's Hands
Finally, for a 'handy' treat to 'hand' out at the end of the party, try these super-easy Deadman's Hands (see, the hand thing was going somewhere). This a great project for little ones to help with as well.


You'll need…
Around 3 cups of popped corn per glove
Five red candies/candy corn per glove
Non-latex surgical style gloves
Elastic bands
Blow inside the glove to open it up, drop a candy into the end of each finger, then carefully stuff with popcorn, working the popcorn pieces into each finger to create a hand shape. Secure with the elastic band once filled, and you're done! We've tried these suspended from the doorway, and 'crawling' over a platter of oranges which we'd decorated to look like carved pumpkins. Each party guest got a popcorn hand and pumpkin orange to take away, instead of more sugary stuff. Win!