My daughter loves a good story book. When she decides she loves one she requests I read it to her every night (sometimes twice in row) and that, until she gets over it and picks another one (sometimes a month later… Sigh). Even if after a while I can read the story with my eyes closed, it makes me happy to see her being so captivated, as if I am reading the story for the first time. She's always sat so quietly while I read from start to finish… That's until she turned 4. Since that day I haven't been able to read more than one sentence before she starts to ask questions and change the story to what she thinks should happen. She even points at words and makes them up as she goes.
When I came accross the LeapReader I thought it would be something she'd really enjoy because she seemed pretty keen to learn to read. I'd read good reviews about it and I thought it would be a good way for her to start learning.
The LeapReader is a reading and writing system that combines three essential literacy skills: reading, writing and listening. It's designed to help children become confident at reading and writing. The LeapReader is suitable for children aged 4-8 years.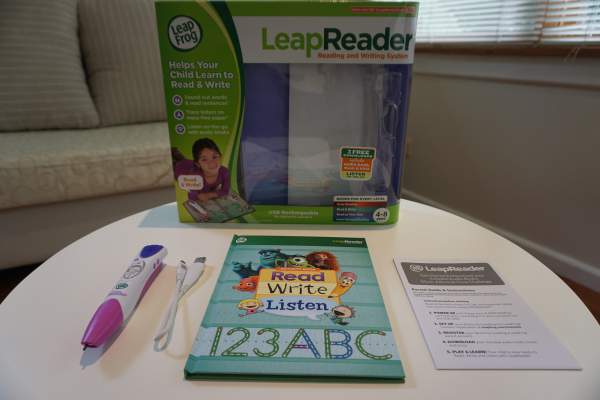 What's included in the box
• A sample book
• 1 piece of special writing paper
• 1 pen with a built-in rechargeable battery
• USB charging cable
• Instruction manual
The sample book includes 6 different sections 'Getting Ready To Read', 'Early Reading', 'Read On Your Own', 'Read & Write' and 'Learn Through Reading', and 'Audio Books, Learning Songs and Trivia Fun'.
The LeapReader also comes with a headphone jack which is great for travelling. The headphones are sold separately but the LeapReader is compatible with any standard headphones. We use kids headphones we bought for a trip we did last year and they work fine.
Setting up the LeapReader
It's very easy to do, no need to be a computer wizard to set it up. First, you'll need to charge the LeapReader by connecting it to a computer with the usb cable, install the LeapFrog Connect application at leapfrog.com/connect, create an account, and download the included audio books, music and trivia onto the LeapReader. Included with the introductory package are 1 Audio Book Bundle, 1 Music Album and 1 Trivia Challenge.

Using the LeapReader
Once you've set it up it's very easy to use. Activities are easily selected using the buttons on the front of the LeapReader pen. The LeapReader talks to you and lights up with different colours depending on which activity you select. My daughter got the hang of it quickly and she loves the fact she can use it on her own without having to ask me.

Book Library
The LeapReader library includes over 150 books, audio books, maps, flash cards, learn-to-write sets, music albums and trivia challenges. You can personalise your child's learning journey by choosing titles based on their reading level , style or favourite characters. Books cost $25 each. Bear mind that if you purchase the book from a store, you will need to download the audio online through LeapFrog Connect.
The only downside I found is that the only book that comes in the box is a sample book which includes only an excerpt of some of the big titles available in the library such as Cinderella, Cars, Monsters Inc, Finding Nemo and Scooby Doo. You will need to purchase those books separately at $25 each which is not cheap. In saying that, you can get some LeapReader book sets for a fraction of that price.
Overall, I think the Leapfrog LeapReader is a great reading and writing system which is fun and interactive. My daughter really likes reading the books and also loves using the pen to simply play the songs and dance. We take it when we go on road trips and it keeps her entertained for a while.
Lastly, if you buy this as a present, I suggest you open the box and get the books downloaded and ready to go before you wrap it up. It does take some time and effort to set it up.
WHERE TO BUY
Online
Amazon
Stores
USA
Canada
Australia
United Kingdom