Which baby products are essential in the first year? Avoid buying gadgets you might not even use. Here's a baby list of essentials you DO need for your baby.
Are your mummy friends constantly chewing your ear off about all the expensive baby gadgets you simply can't live without? Surprise! You can get by with very little…
From monitors that sound an alarm if your baby stops breathing (eep!) to vibrating musical bouncing chairs that promise to keep your child in a state of blissful calm while you cook dinner, the list of baby gadgets on the market is endless.
And well-meaning mums will tell you that some of these devices saved their sanity so you simply must go out and buy them. But before you spend a year's salary on stuff you'll only need for a few months, heed my simple advice: wait and see what your baby is like. What works wonders for some babies is hated by others, so don't go overboard on gadgets until you have a good idea whether or not they'll be useful for your baby.
That being said, here's the stuff you really do need to have in your nursery cupboard before your baby arrives.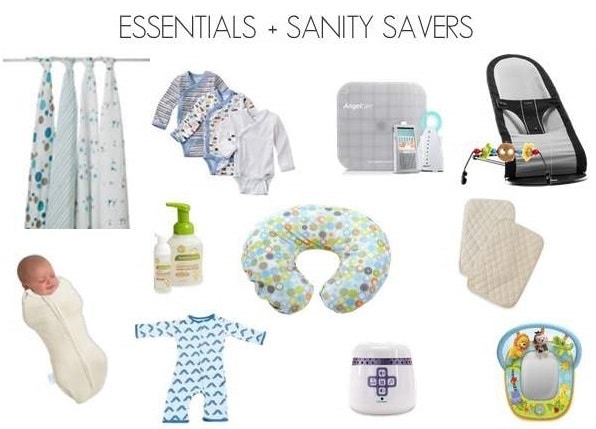 Image Source: prairiehive.com
Newborn Baby List Essentials
Clothes:
• Short-sleeve onesies x 5
• Long-sleeve onesies or growsuits x 5
• Singlets x 5
• Beanies x 2
• Sunhat x 1
• Jumper, cardigan or jacket x 2
• Socks x 7 pairs
• Pants and T-shirts (optional as newborns are generally better off in onesies)
Sleeping:
• Bassinet, mattress and fitted sheets x 2 (optional but many parents prefer a small bassinet in their room for the first few months)
• Cot, mattress and fitted sheets x 2
• Nightlight
• Baby monitor (if you live in a big house)
• Blankets or bunny rugs x 3 (not recommended for sleeping due to SIDS but good for general use)
• Muslins x 8 for swaddling and general use
• Zip-up swaddles or sleeping bags x 2 (optional but very handy)
Changing:
• Newborn nappies x 2 boxes disposable or x 24 (minimum) cloth
• Baby wipes x 5 packs disposable or x 24 cloth
• Barrier cream for nappy rash
• Change table and mat
• Nappy bucket (if using cloth nappies)
Bathing:
• Sorbolene (for cleansing and moisturising)
• Natural baby soap/bubble bath (optional)
• Washers x5
• Hooded towels x 2
• Cotton buds (to clean umbilical cord)
• Nail clippers
• Baby bath or seat (optional as you can also use your sink or bathtub)
Out and about:
• Pram and rain cover
• Newborn capsule or car seat
• Sun shades for car windows
• Nappy bag
• Sling or pouch to carry baby
Feeding:
If breastfeeding:
• Breast pads x 1 box disposable or x 5 pairs cloth
• Breastfeeding bras x 2
• Breast pump (if pumping)
• Bottles and/or breast milk storage bags
• Breastfeeding pillow (optional)
• Rocking chair (optional)
If formula feeding:
• Bottles of various sizes and teats x12
• Bottle and teat brush
• Formula
• Steriliser (optional)
General:
• Bibs x10
• First-aid kit
• Thermometer
• Paracetamol
• Saline nose drops or spray and bulb to suction mucous
• Dummies x5 (optional)
• Baby rattles and soft toys x5
• Basic bouncing chair (optional)
• Baby gym (optional)