Learn how to design a nursery within your budget with the following tips.
A baby nursery is perhaps the biggest expense of having a baby. Both you and your baby will be spending lots of time in this room, so it's wise to pick a theme that you like and make it as comfortable as possible. But you don't have to break the budget to set up a baby nursery you'll love.
Here are some beautiful nursery ideas and useful tips for designing a functional and inexpensive nursery.

Don't Stereotype
You may be quick to grab blue paint if you're having a boy or pink if you're having a girl. But jumping to stereotypes limits your creativity and may actually result in a room you like less (cough, just like I did). I suggest you don't immediately jump to gender themes. Instead, try decorating with a variety of "girl" and "boy" items. This allows you the flexibility to choose items you like and to accept a variety of gifts from friends and family members. Consider leaving the walls white or beige and add colourful wall decals. These inexpensive wall decorations are removable, allowing you to re-customize your baby's room as frequently as you want to. This is what I ended up doing when I finally decided to repaint my daughter's room. I have to say I am very pleased with my decision 🙂
Here are some beautiful neutral nursery ideas

Go Secondhand
If you're on a budget, try shopping at thrift and vintage stores. Vintage furniture can create an elegant and unique look for a baby's room, often at a fraction of the price. Websites like Etsy and Ebay also frequently offer excellent bargains on new or gently-used baby furniture. Don't be shy about asking friends and family if they have baby items they're no longer using, and take advantage of your baby shower registry to get items for your baby that you know you'll need. Having a baby is expensive enough on its own; you don't need to lose your mind or your credit trying to finance a baby nursery.
I love these vintage nursery ideas

Aim for Comfort
A beautiful nursery is great, but the beauty will quickly become unnoticeable if you're uncomfortable in it. Keep in mind that you will be going into your child's room for late-night feedings and need a comfortable place to sit. Prioritise a comfortable rocking chair, easy accessibility of nappies, bottles and breast pumps and coziness above all other factors.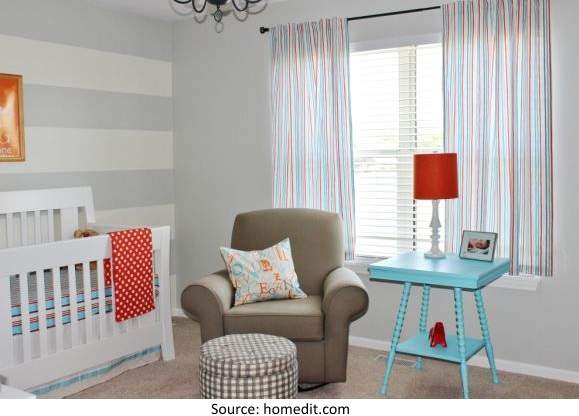 Multi-Task
Babies are pretty unaware of material possessions, and there's no reason your baby needs a room completely devoted to her. If you have a small house or love multi-tasking, consider doubling your baby's room's usefulness by installing a desk where you can sit with your laptop, or using extra bins and crates or cupboard space for home storage. Your baby's room can be both gorgeous and functional, and if the things you need to get work done are there, you'll find late-night feedings and long crying sessions much more tolerable.
Very clever use of closet space don't you think?

Make it Safe
While lush linens and lots of stuffed animals may be beautiful, they're not safe for babies. Keep cot decorations to a minimum. The SIDS for Kids Act recommends that cots for the first 6-12 months only have a fitted sheet, a flat sheet or blanket with no pillows, doonas, bedding or linens that a child could get stuck on or suffocate in. Save the creativity for a few years from now, when your child can safely sleep by herself without risk of injury. Similarly, make sure light sockets and other dangers are covered and out of baby's reach. Even very young babies can inadvertently pull heavy objects over, stick their fingers in electrical sockets and put dangerous items in their mouth. Try crawling on the floor and looking for risky items that are in a baby's line of vision, then promptly remove them.