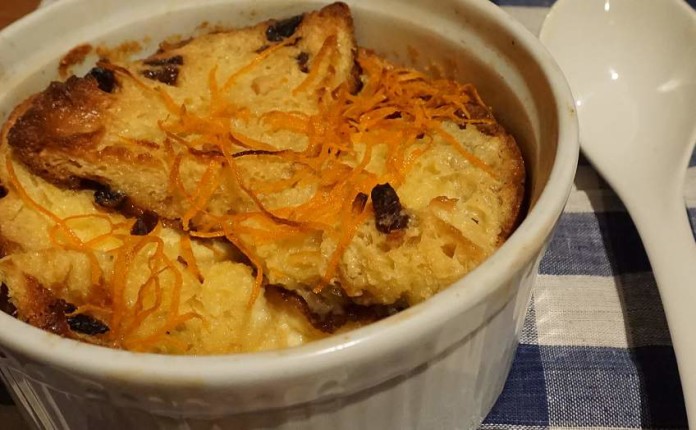 Every Christmas my husband receives Panettone as a gift from one of his clients. We normally have time to eat about half of it before it starts to go a bit stale. In previous years, some of it would just end-up in the bin so I had to find a recipe that would prevent this wonderful sweet Italian bread to go to waste.
I started looking for panettone recipes and I couldn't believe how rich some of the recipes are! A lot of people use eggs, double cream, milk.. Some recipes even require to cook the pudding in a "Bain Marie" (dish placed in a roasting pan to which you add hot water).
As you know I'm all about making thing as quick and easy as possible so I came up with this simple and somewhat low fat version as it doesn't contain eggs or milk.
It so easy to make and the whole family enjoys it some much that we now buy Panettone just to make this recipe. As you will see, I used half a Panettone this time but if you want to use the whole Panettone, you just need to double-up all the ingredients.
Preparation: 10 mins | Cooking time: 30 minutes | Serves 4- 6
INGREDIENTS
1/2 Panettone sliced
50g butter softened
300ml cream
1/4 cup sugar
Zest of 1 orange
Icing sugar for sprinkling (optional)
METHOD
Step 1: Preheat the oven to 180°C (355°F)/160°C fan forced (320°F)
Step 2: To make the custard bring the cream, the sugar and 3/4 of the orange zest just to a boil in a saucepan.
Step 3: Butter each slice of panettone and pile into a buttered baking dish. I used a 17cm (6.7 in) x 7cm (2.5 in) round dish this time.
Step 4: Pour the custard slowly over the bread and sprinkle with the remaining orange zest.
Step 5: Bake for about 30 minutes or until the pudding is set and with a golden crust on top. Sprinkle with the icing sugar and serve.
I hope you enjoy this recipe as much as we do. Enjoy!