Phil and Teds Lobster Chair
• Phil and Teds Lobster Chair.
• Award-Winning Portable High Chair.
• Comes with dishwasher safe tray.
• Travel bag.

VIEW PRICE


We started using the Phil & teds lobster chair when our daughter was 6 months old and we have used it for several years. Here's what our experience has been with it.
Back when our daughter was born, we lived in a condo in the city. My husband and I looked at several high chairs and found some nice looking ones but found that most of them were just plain huge! Sure you can fold them and put them away but with our lack of cupboard space at the time we would've had to leave it in the middle of the kitchen all the time.
Here's our Phil and Teds Lobster Review and Demonstration
Perfect for Families with Limited Space
We needed something smaller which we could easily put away and we wanted something we could ideally take with us camping. When we found the Phil & Teds Lobster chair we knew this would be perfect. My only concern at the time was to know how much weight it could handle and how sturdy it really was.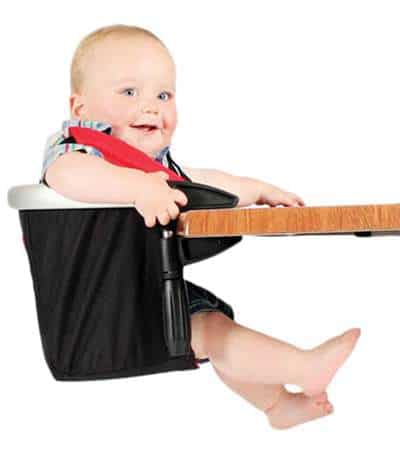 Very Safe:
I have to say I was quite impressed when started using it. It clamps on pretty much any table and once tightened it doesn't move at all and is really safe. You just need to make sure the table you attach it to is sturdy. It does last for a while too. Our daughter sat in it up until she was 3 1/2 years old.
Easy To Clean:
Although you can't remove the canvas to put in the washing machine, it's still really easy to clean. All you need is to wipe it down with a damp cloth and a bit of soap if needed.
Great for Travel:
For travel, it's really light and you can easily fit it into a carry-on bag or suitcase. We took it everywhere; to visit family, camping and to the restaurant. It so much better than having to use the sometimes filthy restaurant high-chairs!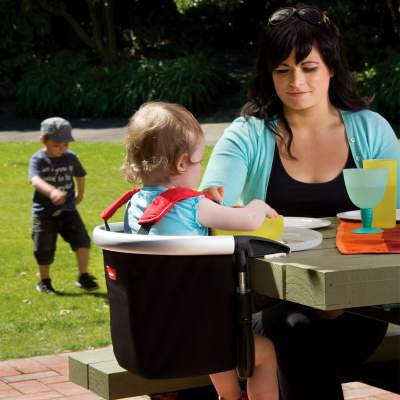 Here are some of the Phil & Teds Lobster Chair Features:
• brings the whole family to the table
• clamps to virtually any table
• max table thickness 95mm / 3.75″, Min table thickness 20mm / 0.8″
• lightweight & portable at just 1.8kg / 3.9lbs
• strong & durable; max baby weight of 17kg / 37lbs
• easy-clean seat
• flat-packing portability, a high chair in your handbag!
• super-safe 4 point harness
• use with or without the food tray (included)
What's included in the Box
• chair
• dishwasher safe tray
• travel bag
*Important Note: Not suitable for use on glass top tables, tables with loose table tops, single pedestal tables, card tables, camping tables, or tables with rounded or beveled edges or lips. Please always double check the table you clamp it on is sturdy to avoid the table tipping over with your child attached to it!
Have you bought Phil & Teds lobster chair? What feedback would you have for other parents considering buying one?
WHERE TO BUY
Phil and Teds Lobster Chair
• Phil and Teds Lobster Chair.
• Award-Winning Portable High Chair.
• Comes with dishwasher safe tray.
• Travel bag.

VIEW PRICE


Retailers