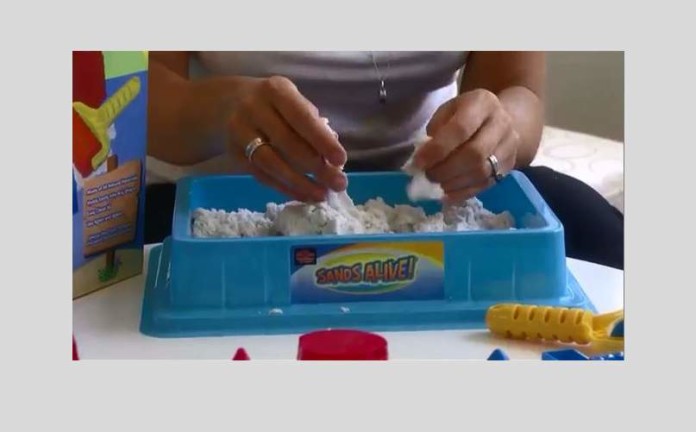 Sands Alive Review of the castle set. Find out what it looks like along with all the shapes kids can create.
We all know kids love to play in sand. Sand is great fun but after a nice day at the beach there's a good chance some of it will make it back to your house, from the front door to the bathroom floor and even to the bedrooms if you're in luck!
It seems impossible to get rid of even if you vacuum there's always some left somewhere. Nothing worse than walking around the house and having sand stuck under your feet and to have to rub them together before getting into bed to get rid the excess! Haha! Ok, enough complaining for today.
Let's have a look at the Sands Alive Castle Set. I bought this at Target the other day because I'd heard about it as being non-messy (woohoo!) and suitable for indoor play. I thought it would be a nice alternative to real sand and great fun on a rainy day.
Here's our video showing you what Sands Alive looks like
Here are some product information:
• Suitable for children 3 years +
• Made from all natural ingredients
• Non-toxic formula prevents bacterial growth
• Ultra smooth texture
• Molds easily into any shape
• Easy to clean up
• Can be re-used again & again
What's Included in the Box:
• 680g/1.5 pounds of Sands Alive
• Play tray
• 5 x mini castle shapes
• 4 x large castle shapes
• 1 x brick roller
• 1 x roller handle
*Make sure you take the sand out of its packaging for a couple of hours before playing with it. It will give it time to breathe and will go light and fluffy.
Overall:
I found it to be lots of fun. It is indeed not too messy, I say not "too" messy because it still makes a little bit of mess but nothing like real sand. You just need to make sure the kids keep the sand in the play tray. If it does happen to end up on the floor, it tends to stick together which makes it easy to pick up with your fingers.
Overall, it's a wonderful present for boys and girls. It encourages them to use their imagination while keeping the mess to a minimum.
* The Sands Alive Set reviewed in this post is no longer available but you can get the Kinetic Sand Set which we highly recommend.
WHERE TO BUY