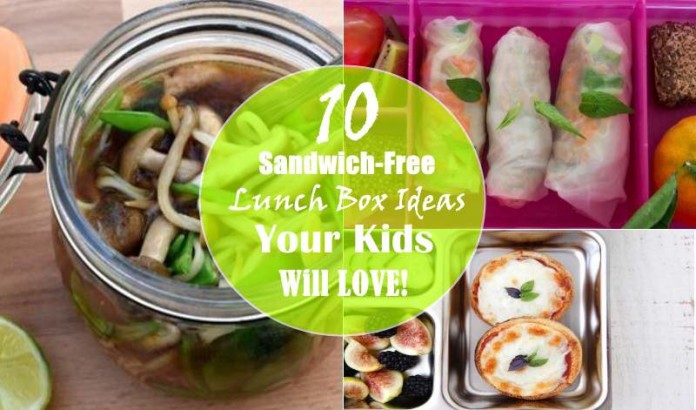 It's lunchtime! Yay…time to go grab a delicious…oh. Right. Yeah, a sandwich. Again.
Sandwiches can be amazing. Really amazing. Remember that sandwich you had? That time, in that place? It was so…fresh. That bread…that stuff in the middle that made you close your eyes…those things around the edges that your partner tried to sneak because oh…it was so wonderful.
Most sandwiches aren't like that. To be fair, most lives aren't like that. We're here to redress that balance and turn your midday into wahay! We hope both kids and adults will enjoy these recipes, so lose the loaf, and try one of these sandwich-free ideas to make your kids lunch (and yours too!) the stuff of legend.
1. Vegetable Frittata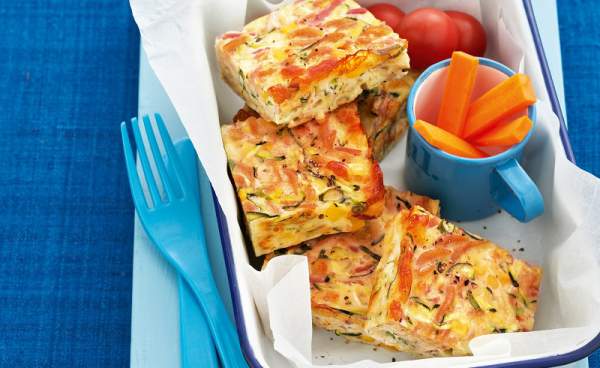 Image Source: taste.com.au
It's best to go unauthentic with this, and just use whatever you have in the fridge that you can fry in olive oil, then grill. Onion, small cubes of potato, peas and asparagus is a good combo. Peppers are great. Aim for around 1 cup of mixed veg, but this is a pretty forgiving recipe. Beat 1 – 2 eggs and tip over the cooked veggies, seasoning as you go. You can add milk or yoghurt for a looser 'set', and whatever cheese you like on top. Finish under the grill and slice when cold.
2. Sushi

Image Source: Pinterest
Make or buy your favourite pieces and add a side salad, a serving of wasabi peas, noodles and some sliced fruit in a bento-style lunch box (or separate containers).

3. Fresh Rice Paper Spring Rolls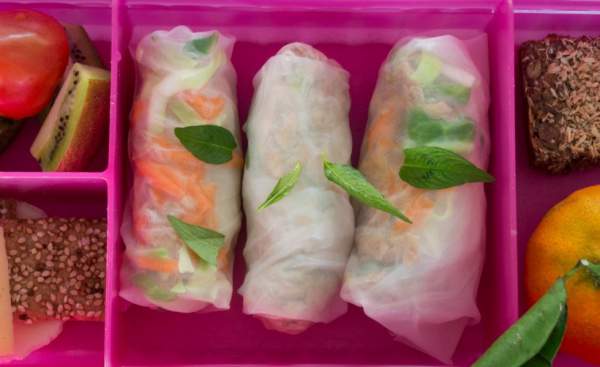 Image Source: wellnourished.com.au
Simple and virtuous, but delicious. Buy rice paper wrappers and fold around cooked prawns or chicken, grated carrot, beansprouts, spring onions, avocado or whatever takes your fancy. Drizzle over a little sesame oil or soy sauce and pack tightly together alongside a sweet chili dip. Watch our video tutorial and
rice paper roll recipe here
.
4. Hummus and Dipping Things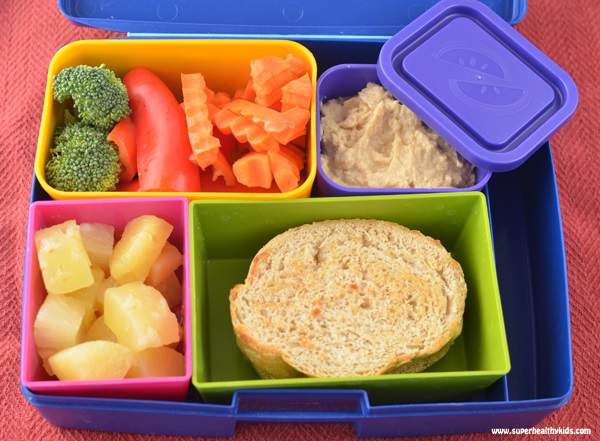 Image Source: superhealthykids.com
Homemade houmous that is. It's such a breeze to make and you can prepare to exactly your own tastes. Just blitz a can of cooked chickpeas with 3 tbsp olive oil, 2 tbsp peanut butter or tahini, 1 clove of garlic and a little lemon juice. Season with salt and add water to loosen. Sprinkle with paprika if you like it. Parcel up some carrot sticks and cucumber to serve.
5. Filo Curry Parcels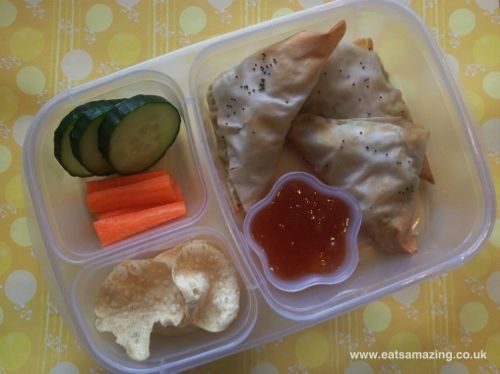 Image Source: Pinterest
Classic leftover stuff, this. Mix a few tablespoons of leftover curry with leftover cooked potato, and a spoonful of your favourite mango chutney. Place a generous tablespoon on a piece and filo pastry and fold samosa-style (the instructions are usually on the pack). Cook at 190 C 375 F for 15 minutes then cool.
6. Classic Caesar Salad
Image Source: thecookingphotographer.com
It's such a fabulous combination of romaine lettuce, croutons and parmesan shavings, bound together with that creamy dressing. Buy a bottled version to make it easier on yourself if you're short of time, and add some chargrilled chicken for a satisfying lunch.

7. Goats Cheese and Tomato Tart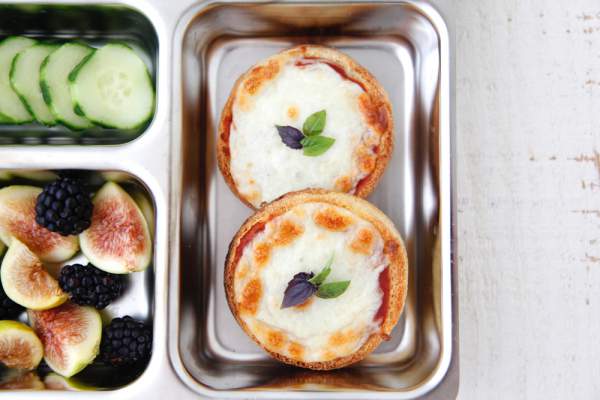 Image Source: weelisciouscom.com
The epitome of easy-yet-delicious, this tart is foolproof. Unroll some ready made puff pastry onto a non-stick oven tray, score a border around ½ inch from the edge of the pastry, then spread inside the border with a thin layer of pesto. Dot goats cheese on top, along with halved cherry tomatoes, and some thin slices of red onion. Drizzle the lot with olive oil and a few drops of balsamic vinegar. Pop into an oven heated to 220 C and bake for 20 minutes or until risen and golden. Wrap slices in foil and count down the minutes until lunchtime.

8. Jar Noodles

I love the neatness of this idea. Find a jar with a well fitting lid. Pop in a handful of dried thin noodles, some shredded veggies, carrots, courgettes, spring onion etc. and a teaspoonful of dried bouillon or miso powder. When you're ready to eat, simply pour in some boiling water and mix your ingredients together in the jar. Have some soy sauce, lime juice or coriander leaves ready in a small container for extra flavour! These are so much better and healthier than two minute noodles.
9. Baked Peppers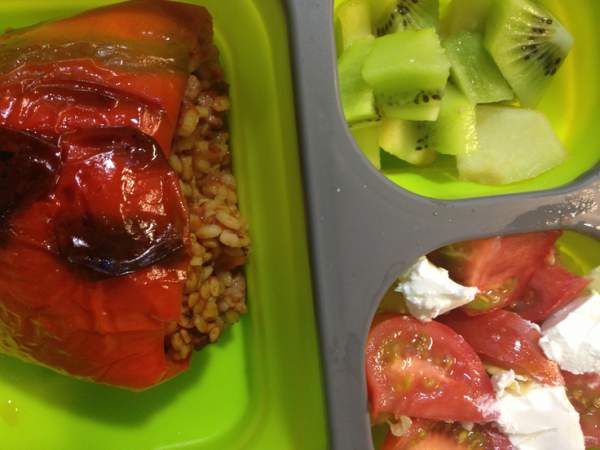 Image Source: Pinterest
Use leftover risotto or other flavoured rice. Cut a 'lid' off the pepper, fill with the cooked rice and shredded cooked chicken if you have some, and drizzle with olive oil. Replace the lid and bake for around 20 – 25 minutes at 190C. Cool and wrap in foil. Serve with another drizzle of olive oil and the hushed envy of your sandwich-eating colleagues.
10. Very Easy and Quick Savoury Muffins
Image Source: organisedhousewife.com.au
If you can warm a couple of these beauties up just before you eat, even better. You'll need:
2 cups (300g) self-raising flour
3/4 cup (55g) grated tasty cheese
1 cup of finely diced veggies – mushrooms, peppers, etc.
150g melted butter
1 cup (250ml) milk
1 egg, beaten
1 tbsp soft herb – basil, parsley etc, chopped
Pre-heat the oven to 180C and mix all of the ingredients together, not too smoothly – a few lumps are fine here. Divide into a muffin tray (should make around 12 muffins) and bake for 15 – 20 minutes.