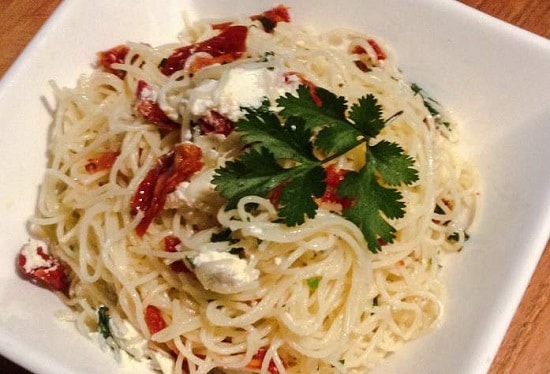 I love making this recipe especially in summer because it's fresh and super quick! The only ingredients that needs to be cooked is the pasta. You can also cook the garlic a little bit if you don't like raw garlic.
Ready in 15 minutes, Serves 4
Ingredients:
1 pack of angel hair or vermicelli pasta
12 Sprigs of coriander/cilantro finely chopped
12 sun dried tomatoes chopped
125g crumbled feta cheese (I use half a 250g jar of feta in oil)
4 cloves of garlic finely sliced
6 tbsp olive oil
Preparation:
Step 1: Boil water and a pinch of salt, add the pasta and cook until al dente.
Step 2: Drain the pasta once cooked and transfer to a large bowl.
Step 3: Add all remaining ingredients: garlic, sun dried tomatoes, coriander, feta and olive oil. Season to taste, mix gently and serve!
*Notes: If you don't like raw garlic you can cook it a little bit in some of the olive oil on low heat until soft.