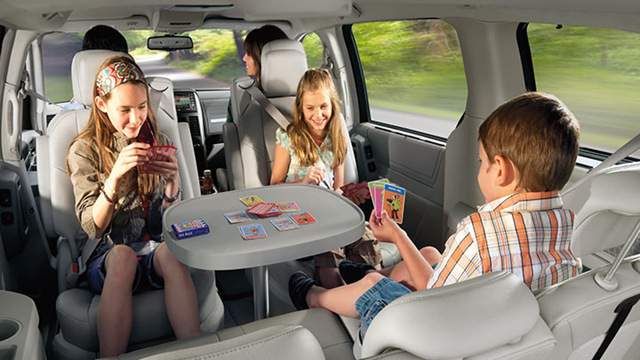 If you're about to take a road trip with children, one of the things you're probably worrying about is how to keep your kids occupied and happy in the car for hours on end. A little prep work is important here, and not only because entertained kids are happy kids. Keeping the kids happy also makes for a safer and less distracted driver. So try these tips for keeping your kids happy and spend your time driving instead of rear view-mirror refereeing.
1. Make sure your kids know what to expect.
Talk to your children ahead of time about the trip. Let them know the agenda, how long you'll be in the car, what they are allowed to bring in the car (for example, two favourite toys), and what the music rules will be (perhaps each person can choose the music for an hour at a time, no complaining allowed). Tell them that everyone must use the restroom during stops. Adjust the rules of the road to your individual kids, of course.
2. Bring toys.
It sounds obvious, but it's of extreme importance. Stash as many toys and gadgets in the car as you feasibly can. From dolls and books to games and iPads, have your kids' favorite toys available to fill the long hours on the road. Novels and magazines can also help pass the time. And don't forget a Frisbee or soccer ball for stops.
Pro tip: If your kids are young, head to the dollar store before you leave and stock up – then hand out a new toy for them to unwrap each day of the trip.
3. Never underestimate the power of a bribe.
If things aren't going so well, maybe your kids need a little incentive to behave. Offer a stop for ice cream if there is no complaining for an hour. No whinging all morning could equal being allowed to choose where to eat for lunch or which attraction to visit first that day. This can also work in reverse: fighting after being told to stop means they can't visit the hotel game room that night.
4. Keep kids busy creating a family scrapbook of the trip.
Everyone likes reminiscing about trips, but often parents are too busy to create scrapbooks and photo albums. Enlist help from the kids and keep them occupied – two birds with one stone! Put one child in charge of taking photos and another in charge of recording that day's activities in a journal. Another could collect souvenirs such as coasters from restaurants, mementos from attractions you visit, and the like. Every night before bed, give the kids time to create a few pages representing that day's events. Be sure to pack instant cameras, a scrapbook or album to fill, crayons, markers, glue sticks, and tape.
Bring plenty of snacks and drinks (preferably without caffeine) in an Esky, and be sure to stop often enough, at least every couple of hours. Stretching and breathing some fresh air can make a world of difference for everyone in the car. With a combination of common sense and creative solutions, a road trip really can be fun for the entire family, even the youngest members.
What else do you do to keep your kids happy on a road trip? Please comment below!
Image Source: dianegottsman.com